Empowering Women Entrepreneurs: Catalyzing Economic Growth
Women entrepreneurs aren't just rewriting financial equations; they're redefining social dynamics. There is an estimated $28 trillion in world GDP if there is gender equality. This further defines the role of women as naturally born leaders who hold the balance in the professional world to the household (Sheerin and Garavan, 2022).
While men often allocate their earnings according to personal preferences, women, including single women, primarily direct their earnings towards domestic needs. This contribution not only elevates education levels but also enhances overall family well-being. Mary Godwyn and Donna Stoddard's book, "Minority Women Entrepreneurs: How Outsider Status Can Lead to Better Business Practices," further supports this reality.
Economic Paradigm Shift
Economic success isn't created by accident; it's rooted in dismantling biases, bridging gender gaps, fostering innovation, and ensuring equitable access to funding. This is where KUMPUL.ID steps in, nurturing an ecosystem that harnesses the latent potential of women entrepreneurs.
We believe empowering women entrepreneurs isn't a distant dream; it's a tangible goal. There are several ways to close the gender gap and reach gender parity in the entrepreneurial context.
Enable access to women-targeted funding
Access to funding is often a significant barrier for women entrepreneurs. Opening up access to funding options for women-owned businesses will provide them with a fair chance to secure the financial resources they need to start, scale, or innovate their ventures.
Fostering family-friendly work environments with on-site childcare facilities
Balancing the demands of entrepreneurship with family responsibilities is a challenge many women entrepreneurs face. By providing support facilities, we can enable women to focus on their businesses while ensuring their families' well-being.
Cultivating continuous entrepreneurial education
Providing ongoing education and skill development tailored to women entrepreneurs equips them with the knowledge and tools necessary to navigate the dynamic business landscape.
Building robust women entrepreneur communities as the support system for women in their entrepreneurship journey
Entrepreneurship can be isolating, and women may face unique challenges that their male counterparts might not fully understand. Through this approach, we can create a network of peers who can provide emotional support, share experiences, and offer valuable insights.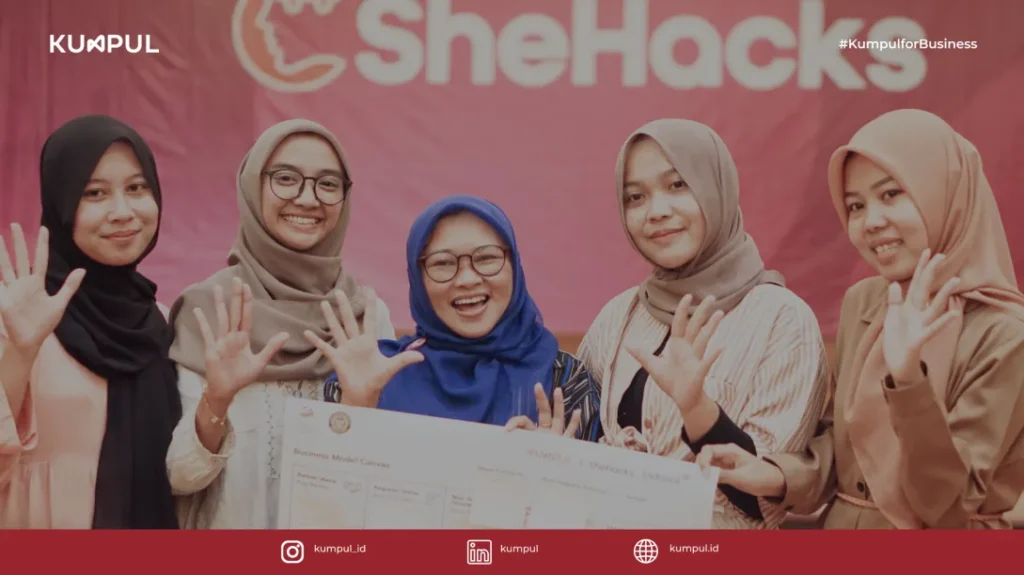 Empowerment in Action
KUMPUL.ID's collaboration with @Microsoft on PerempuanBijakBerusaha.id and collaboration Indosat Ooredoo Hutchison on SheHacks are the largest community for women entrepreneurs in supporting the needs for every woman for one-stop education and mentorship in creating or developing their business, as well as impacting in total of more than 19000+ aspiring women in every city in Indonesia: business owners or even those eager to start one, this community provides a potential source of information, 50+ mentors to assist as well as buddy programs, network, and support for aspiring business women to make the changes needed for women entrepreneurs and allows sharing of best practice in entrepreneurship.
To further fuel this movement, we invite you to join us on this journey, where every effort, no matter how small, contributes to a more inclusive and vibrant future. Whether you have innovative ideas or untapped initiatives, let's come together to make a difference. Contact us today, and let's create a better tomorrow, one empowered woman at a time.